Bear Paw Wilderness Designs Review Post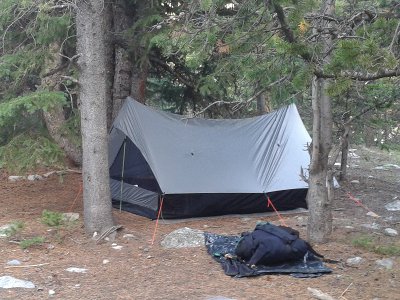 There's a small company in Colorado making some nice lightweight shelters. If you are ready to dump your 6-pound tent for something much lighter and just as protective, you really should check out
Bear Paw Wilderness Designs
. John owns the company, makes the gear, and even does his own
youtube videos
. He's ready and willing to customize any of his products for your specific needs. Let me tell you about my experience with BPWD shelters...
I made my own lightweight shelter in 2012, and I'm proud of what I sewed together. It kept me comfortable over many nights and miles, but it wasn't really great when the weather got bad. John gave me one of his tarps and a 1-person bug nest to try out, but I put it off because it weighed a couple ounces more than my own shelter.
This January, my son and I hiked through the Florida Keys and then through the Everglades up to Lake Okeechobee where my son left to return to college and I continued on to Ocala. I used my home-made shelter while my son used the BPWD shelter. As soon as he left, I had him take my shelter home and I switched to the BPWD - wow! I was completely protected from rain and bugs, had plenty of room, and wasted no time in set-up and take-down each day.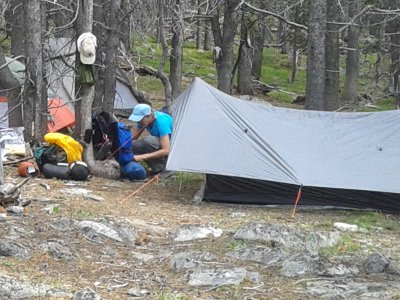 Last month, I ordered a 2-person bug nest from John that would fit under the tarp I already had, replacing the 1-person nest. My wife and I were heading to the Bighorn Mountains of Wyoming, leading a group of youth from our church. We spent 6 nights in the nest under the tarp while mosquitoes buzz bombed us outside, but had no chance in our spacious nest. We had 3 nights of
torrential
rain and intense lightning, but we stayed completely dry under the tarp that would not even budge when high winds hit it broadside. I'd like to think it was my excellent skill in pounding in stakes, but the shelter held up perfectly.
There was a small amount of very fine mist forced through the silnylon during the very, very worst of the storms but much less than other silnylon shelters I've used. The tarp extended over the sides of the bug nest enough that no rain blew underneath. The sidewalls of the bug nest kept all blown rain out while the mesh allowed complete air flow.
We set up on rocky ground, pine needles, and bare dirt. It was easy to get sturdy tension on the tie lines even though we had to place them at different distances and angles due to rocks and roots underground. The individually adjustable locks on each line worked nicely.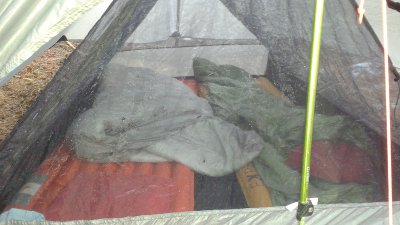 We left the bug nest connected to the tarp at the two ridge points and the four corners. This allowed us to throw down our plastic ground sheet, drop the nest and tarp on top, peg out the corners of the nest and quickly lift the tarp into position. My wife held the front support pole in place while I pounded the lightweight aluminum support stakes in. We repeated that process on the rear support post. It took us about 3 minutes to completely set up the shelter, and the nest was never exposed to rain doing it this way.
I was not able to achieve a perfectly tight ridgeline, but there was very little flapping or ruffling during the windiest storm. A couple inches of space between the internal mesh nest and outer tarp at the top ensured no condensation moisture got inside the nest, even when I bumped up against the mesh.
We were in arid conditions, so there was little condensation inside the tarp. I plan to use this shelter again for a week on the Superior Hiking Trail in Minnesota, starting this Friday. I will check for condensation in a more humid area. I'm taking the 2-person nest because it will give me tons of space, at the cost of only a couple ounces.
Bear Paw Wilderness Design Shelter Benefits
:
Roomy - Long enough inside the nest to have a little extra gear above my head, and wide enough for our two sleeping pads plus about 6 inches between. I can sit up easily without pressing against the mesh ceiling.
Comfortable - protection from rain with lots of ventilation.
Flexible - The tarp can be pitched high or low, depending on weather and air flow desired. The nest and tarp, tarp only, or nest only, can be pitched depending on what weather and insect concerns you expect.
Lightweight - the tarp, nest, and lines weigh 36 ounces. Adding in 12 stakes and a ground sheet brings it up to 46 ounces. It packs into a very small bag, taking up little pack space.
Unobtrusive - the grey color blends in nicely to nature. It just looks like another rock in the mountains.
USA - designed, made, and sold locally.
Customizable - John can create pretty much what you want with different styles, sizes, and materials available.
For pricing, and detailed specs, take a look at
Bear Paw Wilderness Designs
website. I have a Canopy 2 Tent, a Walled Net Tent 2, and a Minimalist 1 net option.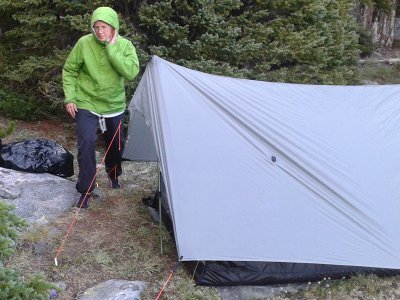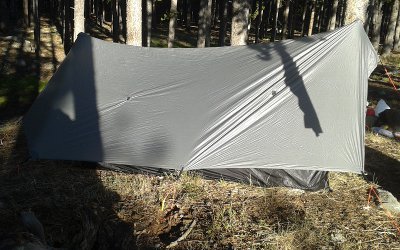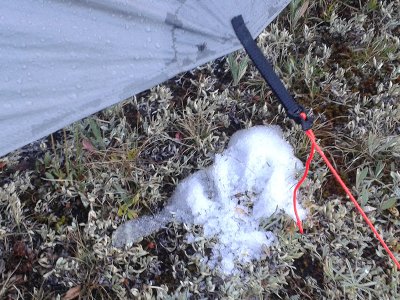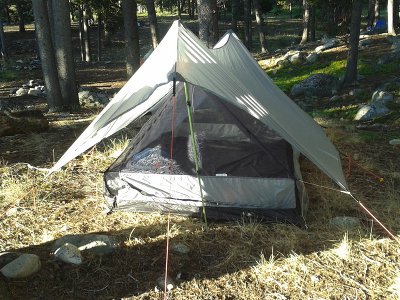 Posted: 8:17 08-13-2016 1292


Find more Hiking Resources at www.HikingDude.com
Follow Me