Meet My Little Friends Post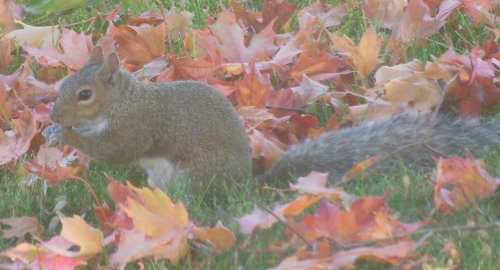 While watching my maple tree continue to slowly turn color today, and contemplating content for my hiking guide, I noticed this cute squirrel hopping about in the leaves and picking up stray maple seeds. I didn't realize squirrels like maple seeds that much, but I've got tons of them to share this year. I wonder if they taste anything like maple syrup to squirrels?
Anyway, I took his picture and went back to work. A bit later, with the afternoon continueing to be bright and sunny and my computer screen being boring, I saw a
black
squirrel wolfing down seeds, too. Maybe he was collecting them for later rather than eating them now, I don't know. Anyway, through the window, I got his picture, too. He looks more greyish here, but I promise he was coal black.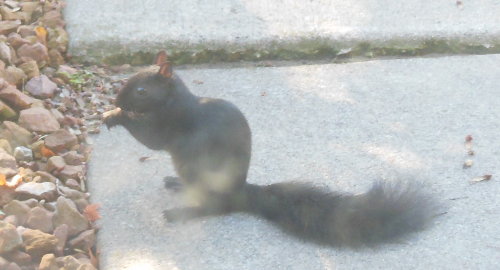 Believing I should share my good fortune with the networked world, I was about to post his candid photo when another little critter scampered by. Now, this gal is the real reason I even had my camera sitting here. I've seen her the last couple days but she always skittered away before I could snap a shot. I guess she's getting full and slow because today she was in no hurry and posed like a professional model for me, in the leaves and breeze. You can't see it, but her hair was blowing in the wind. :-)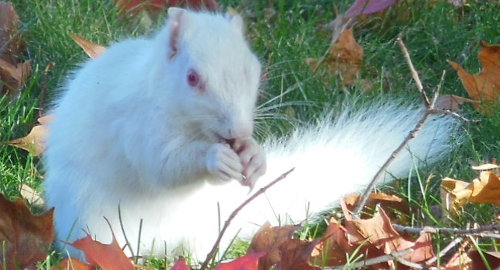 Grey, black, and white squirrels in my yard all in one day. Pretty cool. But wait, there's more! As a bonus this chittering little guy also made an appearance. I think he just heard the paparazzi were around and wanted 15 seconds of fame. I obliged.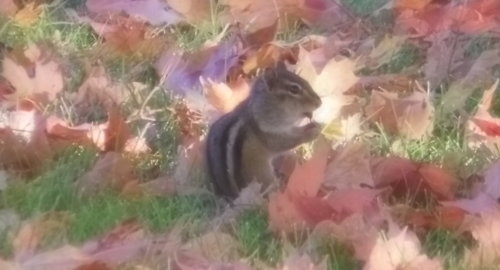 Wow, all that wildlife and I didn't even go for a hike today.
Hike On
Posted: 14:56 10-19-2016 1306


Find more Hiking Resources at www.HikingDude.com
Follow Me