PNT Talks Post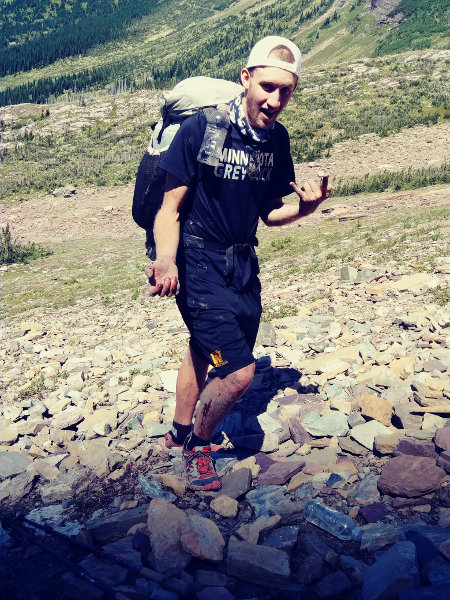 Yesterday, we had a fun time talking about our PNT thru-hike to a standing room only crowd of about 70+ folks at the Midwest Mountaineering Expo. It was entertaining to remember and joke about things that happened along the trail.
One of the things that continues to pop into my mind often is the first day in Glacier when Josh fell off the trail. It makes for a great story now, but was about the scariest moment I can recall from all my miles on trail so far.
Traversing a steep snowfield, he slipped and slid for more than 50 feet to the rocks at the bottom. From my view above him, I only saw a cloud of ice crystals as he tried to dig in with his feet and hiking pole handles to slow down. Pretty helpless feeling, just standing there and watching him hurtle towards the end of the snow where it turned to rock.
When he hit the rocks at the bottom, the cloud of ice turned into a cloud of dust. I've hit rocks at the bottom of a glissade before, and it is very dangerous! Luckily, it was all smaller shale and not solid rocks and boulders so he skidded on it to a quick stop.
As you can see, he took a beating with lots of cuts on hands and legs, but nothing deep. I checked him out and all his joints and muscles still worked, and there was little bleeding, so we climbed back up to the trail past the snowfield.
A few weeks later, all the cuts were healed and scarred (which he still has) and they are a reminder of how a split-second can change a fun time into an emergency. Even being trained, cautious, and aware, accidents can still happen so you should have some wilderness first aid skills before going into the wilds.
Oh yeah, we're presenting about our PNT hike this Wednesday at our home church so that should be fun to see what our friends ask us about. :-)
Hike On
Posted: 19:41 04-29-2018 1445
---
All Comments:
Apr 30, 2018 - bren
It's true! I know firsthand. Considering taking the wilderness first aid courses soon.
---
---
Ask a Question
---


Find more Hiking Resources at www.HikingDude.com
Follow Me