Next Hike... Post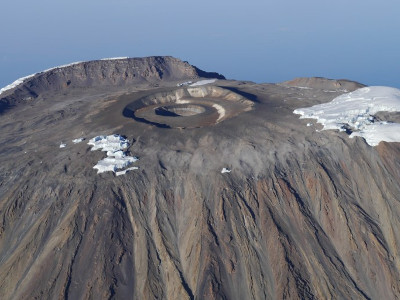 After tramping around my local area for the past few months, doing my 5-7 mile morning walks, and not having much to write about, I've got some news to share.
My next long hike isn't really going to be very long, but it will take a long time to get to it. Anyone recognize the photo above? It's a very well-known mountain and I'll be standing on top of it on Valentine's Day 2019 with my wife (and probably a few dozen other people).
Something like 50,000 people try to climb this 5,895 meter (19,341 feet) high peak each year with about 65% of them being successful. We are going with an organized group from our church being guided by an outfitter at the mountain. It will be an 8-day trek up and back down, but covers only about 71km ( or 44 miles).
Well, enough suspense - we will be taking the
Lemosho Route
up Mount Kilimanjaro in Tanzania. Kili is the highest mountain in Africa, with Uhuru Peak being the highest point.
It will be weird to have someone else carry all my gear, have someone cook my meals, and sleep in huts. But, that's the way it's done with the guides and porters, so it will be a new experience.
I'm hoping for clear weather so we can summit and have great views since I doubt I'd make another effort after this one.
After our climb, we will spend a week visiting communities in the area, and going on a couple short safaris. I've never been to Africa, so this is a very exciting opportunity to learn more and meet people on the other side of the world.
Hike On!
Posted: 9:00 05-16-2018 1448
---
All Comments:
May 16, 2018 - Doug Johnson
I did this hike (Lemosho route) about 8 years ago (age 58) with an travel agent out of New Ulm and had a great time. You'll appreciate the porters, cooks, guides, and the guy who is in charge of your personal porta-potty. Held up well until the descent when the legs got very sore. Have fun and email if you want to communicate. (I took a Wilderness First Aid/Survival class from you a few years ago.)
---
---
Ask a Question
---


Find more Hiking Resources at www.HikingDude.com
Follow Me