Done Hiking Today Post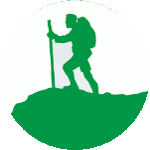 I finished hiking for today. You can check out my
current location
on the map and I'll post about my day when I am in coverage.
Posted: 17:56 07-20-2018 1454
---
All Comments:
Jul 21, 2018 - Mangy Moose
Looks like a good start! We are cheering you on. We hope today is another successful one. We will check where you end up later
---
Jul 21, 2018 - Andrew
Good start? Keep up the positive attitude! You're going to break that speed record!
---
---
Ask a Question
---


Find more Hiking Resources at www.HikingDude.com
Follow Me