Pauls Boots Post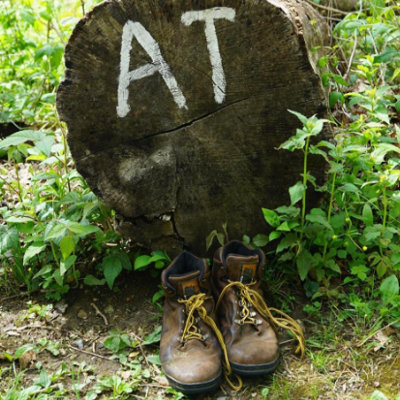 Why, oh why, oh why, would
ANYONE
want to hike so far????
That's often the thought folks have when they hear about someone that likes to hike the longer trails. And, it's a good question! Some people hike to find themselves, others to lose themselves, others to enjoy quiet time, others to meet new friends. It kind of reminds me of coffee commercials - some say it perks you up, others say it calms you down. :-)
Hearing about someone's hiking trip is like seeing an astronaut's photo of earth, or hearing a recording of a live concert, or smelling a day-old doughnut - it is just not possible to appreciate the description without personally experiencing the event. One example I use is a day I had on the Arizona Trail. As I hiked 35 miles across the desert south of Flagstaff, a rumbling sound caught my attention. I saw about 50 elk running across the open grass ahead of me. When I stopped to watch, I could even feel the ground shake from their pounding. I didn't smell them, but sight, sound, and feeling were all involved - you can't appreciate all that from me just writing it here.
That's why it's great to meet others out on the trail. It's a community that tends to support each other and let everyone be a part, in whatever way they'd like. A short movie was just made to show support for a specific person that could no longer participate, but more so for the community as a whole to become stronger and more supportive. After watching
Paul's Boots
, I think you'll appreciate a bit better what the hiking community is about.
The movie is 37 minutes and give a glimpse into the hikes of a handful of various people, some famous in the long trail community, and others on their first long hike. Each of them taking on a burden in support of an Australian named Paul who could not hike the trail himself.
Hike On
Posted: 8:49 10-26-2016 1307
---
All Comments:
Nov 03, 2016 - Frankie
You have a great site!
Thank you for all your information!
I too watched the story on Paul's Boots and loved it! Hope to one day be apart of something like this!
My husband and I are currently section hiking the IAT, due to health and other commitments we are not able to do it as a thru-hike. But we are setting ourselves up for this in the very near future. We sold our house and everything in it and now live vanlife in a converted 2014 Ram Promaster! We plan to hike the CT (Colorado Trail) next summer.
Hike on!
---
---
Ask a Question
---


Find more Hiking Resources at www.HikingDude.com
Follow Me