Get Out Gear Down Puffy Blanket Review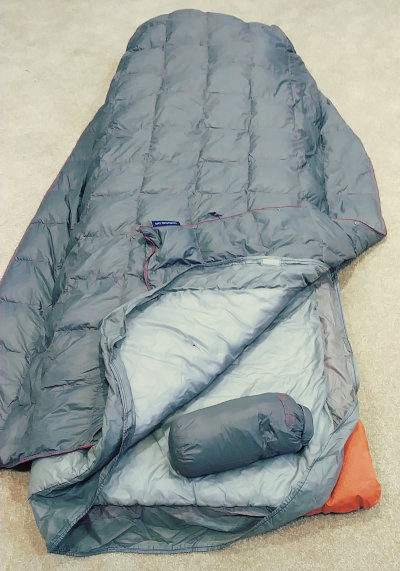 I made my own quilt and have been using it for almost 10 years now, over hundreds of days and thousands of miles long-distance hiking. I'm comfortable in it down to around 40 degrees, but that's not quite enough for mountain treks and late fall hikes in the great north woods. I found a down puffy blanket as a simple way to increase the temperature range and flexibility of my sleep system. I also found that the stuff sack makes a nice pillow when stuffed with my mosquito net bug suit - bonus!
What's Needed in a Sleep System?
Getting real sleep each night is very important on an extended trek. You can be miserable for 1 or 2 nights of a weekend campout, but it will catch up to you over time. A good sleep system should include:
Insulation - to prevent heat loss to both the air around you and the ground under you.
Light weight - insulation fill, shell material, zippers, buttons, and seams all add to the weight.
Flexibility - being comfortable in a wide range of temperatures.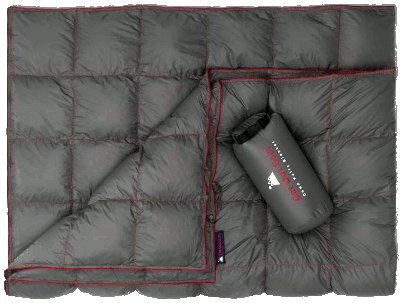 What I Think of this Down Puffy Blanket
Short Story:
It does a good job of providing extra warmth while taking up little pack room. Besides being a sleeping blanket, wrapping it round your shoulders and connecting the three snaps turn it into a warm shawl on cool evenings relaxing around camp.
Full Story:
Things I like about the Down Puffy Blanket:
It's soft, light, and warm.
I love the color choices and went with the natural, subdued grey so I don't stand out like a beacon in the wilds. But, you might go with orange for the opposite reason.
In the included stuff sack, it is about the size of a Nalgene, but it can't get squished into a Nalgene - I tried and it was very close.
I can snap it into a poncho shape to wear around camp or to the toilet in the middle of the night.
It weighs 15.2 ounces, plus 1.0 oz for the stuff sack - so just about 1 pound. That's 4 ounces more than my down puffy jacket, but it provides much more coverage.
It's all I need for warm summer camping on short trips.
Things I don't like:

A little more fill would be nice, but that would make it heavier. Always a trade-off.
The shell is 20D nylon and DWR treated to resist spills, and has three snaps to convert it into a poncho to free your hands. The insulation is 650 fill down and it measures 77"x50".
The blanket instructions say to shake and fluff it when you pull it out of the stuff sack and then let it regain loft for a minute. That is important for any down item, since they compress when packed and need to expand. The loft of this blanket is similar to that of my down puffy jacket.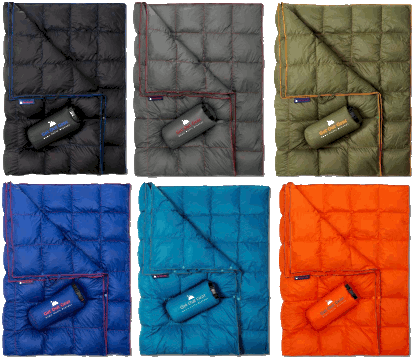 This down blanket will boost my comfort level on treks I have planned for this summer. I will take it with me on three week-long backpacking trips in the Wyoming Mountains where night temperatures may range from 60 down to 20. Over a three-week period, I'm bound to have a few very cold nights and this will be nice for them.
Use hikingdude10 code to get a down blanket for yourself, & save 10%, & get free shipping:
Get Out Gear sent me a blanket to try out and review. I received no other payment for this review.
---
All Comments:
Apr 26, 2023 - Andrww
What is the difference between the quilt and the blanket. Are they a Mix of down and synthetic fill?
---
Apr 26, 2023 - Hiking Dude
@Andrew -
My Quilt
that I made has synthetic fill. The blanket reviewed here has down fill. But, blankets or quilts can have either kind of fill.
Technically, a blanket is just a woven cloth and a quilt is fill between two cloths. So, this 'blanket' really should be called a quilt.
---
---
Ask a Question
---


Find more Hiking Resources at www.HikingDude.com
Follow Me