Kekekabic Trail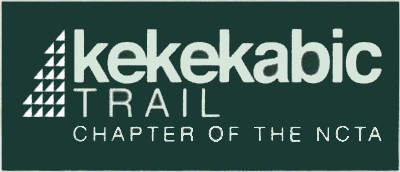 My Kekekabic Trail Hike
I hiked the Kekekabic Trail from its western terminus near Ely, MN to its easter terminus on the Gunflint Trail, and back to the west with my wife on October 3 to October 8, 2020.
This was Kelly's first thru-hike and she set a Female Supported Fastest Known Time for the trail - see FKT page!
Journal
Map
Gear
Food
Expenses
Stats
My Gear
My pack weighed
27 pounds
with including 7 days of food.
No new gear was purchased for this hike.
Item
Oz
$$
Notes
G4 backpack
16
$0
made myself from pattern.
Comfortable, light, and plenty of room for all my gear. I used my old green one for one last? hike.
Sleeping
shelter
30
$0
We used my Bear Paw Wilderness Designs La Garita shelter with 2-person bug net includes stakes. It worked wonderfully.
sleeping quilt
40
$0
I made this quilt from a pattern for my AZT hike.
blue CCF pad
10
$0
cheap, indestructible, and comfortable enough.
Cooking
alcohol stove
1.1
$0
Just boiling water.
fuel
28
$7
disposable bottles of alcohol
cook kit
5.8
$25
includes spoon, pot, foil lid, stand, windscreen, and lighter.
food cozy
.8
insulates food package while the hot water is heating it up. Saves fuel and works super.
food
8 lbs.
$0
7 days of food.
Water
water filter
4.2
$0
Sawyer Squeeze filter continues to work wonderfully.
water bottles
1.2
$0
two .6L throw-out bottles - cheap, easy, light.
water
2lb.
water is plentiful most of the time, 2.2lb/L
Clothes
baseball hat
3.5
$1
with home-made sun cape to protect ears and neck.
wicking t-shirt
11.2
$0
light, synthetic. Same old one refuses to wear out!
long sleeve nylon shirt
12
$0
for sun protection.
BSA zip-off pants
17.2
light and sturdy
Darntough socks
2.9
Second pair - they replace them when they wear out!
underwear
4.2
3 pr.
shoes
26
$0
Astral Footwear
bandanna
2.0
$1
2 of them, too many uses to list here.
down jacket
16
$70
REI sale, evening warmth and used for pillow wrapped in bandanna.
Electronics
cellphone
5.2
LG Stylo 3. This is my watch, alarm, phone, camera, gps.
tracker
4.2
pings to satellite with my location. Batteries last three weeks when on for 12 hours/day.
headlamp
.5
$0
Awesome photon light. One set of batteries lasts about 10 days.
batteries
2.0
$10
4 AAA lithium backups for tracker, and 4 CR2016 coin batteries for headlamp - purchased online for pennies.
Venza Maps App
0.0
$0
These electronic maps are great tools and they weigh nothing.
Other
trek poles
14
$0
Still using Walmart pair that refuse to die
rain poncho
3.4
$4
cheap disposable to cover me and pack from rain - taking 2.
rain skirt
2.0
$1
Just a garbage bag cut open and cinched around waist.
guide
4
$17
Kekekabic Trail Guide
food bag
9
$90
we each have an Ursack Major S29.3 AllWhite bag
1st aid kit
3
basic personal items - bandaids, pain relief, tape, liquid skin, CPR mask, gauze pads, allergy meds, ...
compass
1.1
knife
1.1
tiny, single blade.
toothbrush
1.3
includes paste
ear plugs
0
I'm taking a bunch, just in case.
toilet kit
2.8
TP, Purell
misc.
12
2 garbage bags, whistle, clippers, thermometer, and other small items
duct tape
1.5
Duct tape has many uses, but I'm taking bright orange for high visibility.
stickers
3
As usual, taking some Hiking Dude stickers to hand out to folks I meet.
Total
~29 lbs - total weight
My Food
Breakfast: 2 protein bars & cocoa
Lunch: salami and crackers
Snacks: Austin crackers, peanut M&Ms, smokehouse almonds, jerky
Dinner: Food for Sole meals, chicken pouch
Drink: just water. lots and lots of water.
Daily vitamin
My Expenses
travel to trailhead and back - $40
food - $47 restaurants (in transit), $100 trail food
Total - ~$200
---
Kekekabic Trail Statistics
States
Minnesota, all within the Boundary Waters Canoe Area Wilderness
Distance
81.2 miles - 40.6 each direction
Total Elevation
not very much, lots of hills, but no mountains.
Terminus
East: Gunflint Trail
West: Snowbank Lake
Highest Point
1920ft - site of old lookout tower
Lowest Point
1430ft - bog near west terminus
Map


Click for Interactive Map

Terrain
The trail has a challenging tread of rocks, bogs, and overgrowth but there are no big climbs or summits.
The trail is not blazed like the AT or PCT and advanced navigation skills are required.
History
The trail was built in the 1930s by the CCC and USFS to access fire lookout towers. It became unused but was reborn as a recreational trail in the 1960s. The USFS stopped maintaining the trail in the early 1980s so use fell off. The Kekekabic Trail Club was formed in 1990 to recover and maintain the trail.
The KTC became a chapter of the North Country National Scenic Trail Association in 2014, and the NCT was rerouted to use the Kek in 2019.
Challenges
Overgrowth of brush and ferns obscure the tread over the spring and summer. Very little trail markings. Limited campsites.

Time Window
May through October. Snow and snowmelt make the trail swampy early. Weather and tree colors make September a prime time to hike.
Time to Hike
Typically 3 to 5 days.
Permits
BWCAW permit required.
Thru-hiker Tally
not tracked
---
Trail Links
Land Managers and Partners of the Kekekabic Trail
---
All Comments:
Mar 10, 2021 - Greg
Thanks for your overview of the trail. It is definitely on our to do list. Also watched your video on you tube of the hike.
---
---
Ask a Question
---


Find more Hiking Resources at www.HikingDude.com
Follow Me