Pacific Crest Trail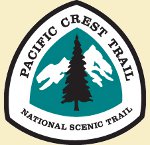 My Pacific Crest Trail Hike
I hope to hike the Pacific Crest Trail in coming years. It strikes me as being the most scenic of the trails. I'd love to share the adventure with another person, rather than hiking it alone. Interested? Give me a holler.
---
Pacific Crest Trail Statistics
States
California, Oregon, Washington
Distance
2650 miles - trail reroutes happen so this is an estimate of the trail length.
When I complete the trail, I'll let you know how many steps it took me since I'll wear a pedometer the distance.
Total Elevation
Estimates vary widely depending on the elevation sampling sizes taken, but the generally accepted number is around 450,000 feet gained over the length of the trail. This is the accumulated elevation from climbing up to passes and ridges and down to valleys and streams.
Terminus
South: Campo, CA on Mexican border
North: Manning Park, British Columbia
Highest Point
13153ft at Forester Pass in the Sierra Nevada
Lowest Point
180ft at Bridge of the Gods on Oregon-Washington border
Map


Click for Large Map

Terrain
Desert with high daily temperatures and low night temperature in southern California. Very high altitudes in the Sierra Nevada. Generally considered the most scenic of the national scenic trails. Well-marked trail the entire length. Most extreme elevation range of all the National Scenic Trails.
History
Designated into the National Trails System in 1968 and declared 100% complete in 1993.
Challenges
Deep snow in Sierra Nevada. Turbulent water crossings. High altitude sickness. Lightning storms. Incessant rain through Washington for the end of the northbound trek.
Time Window
End of April, beginning of May. Too early and deep snow in the Sierras, too late and snow in Washington. Most start around April 25, northbound.
Time to Hike
record set in 2011 is 64 days by Scott Williamson. Typically takes 140-180 days.
Permits
Thru-Permit required for hikes longer than 500 miles. See PCTA. Shorter hikes require permits in wilderness areas, national parks, and other restricted areas.
Thru-hiker Tally
PCTA registry of names that have been sumitted, certainly not a complete listing.
From 2011 back to 2006, totals are: 117, 187, 76, 81, 84, 132
---
Trail Links
Land Managers and Partners of the Pacific Crest Trail
---
All Comments:
Jan 15, 2018 - Heidi
Thanks for sharing your experiences. Thoughts on hiking Pacific Crest Trail SOBO? Any chance you're thinking of doing it this late spring / summer (2018)?
---
Jan 15, 2018 - Hiking Dude
@Heidi - This summer looks like a few shorter treks for me. Also, after all the fires this past year, I think the PCT will be recovered more in a couple years. You might check out the
PCT Trail Closures
. Quite a few miles are still closed.
---
---
Ask a Question
---


Find more Hiking Resources at www.HikingDude.com
Follow Me